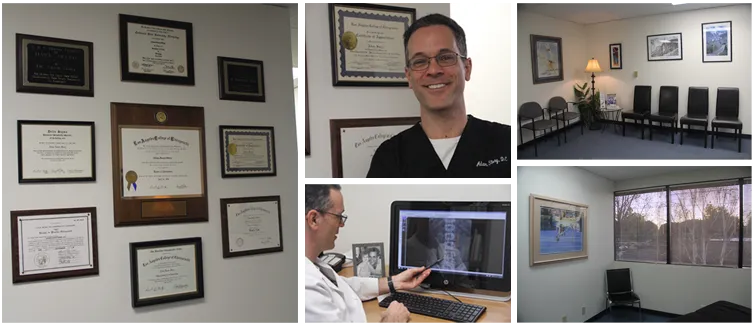 FACILITY
We are proud to provide a state-of-the-art facility for the highest quality chiropractic care available. It is one of our top priorities to protect the well-being of our valued patients. We are confident that you will feel right at home in our office as we welcome all patients as if they were family.

OUR LOCATION
Our chiropractic office is located in the center of Camarillo. We are located on the corner of Ponderosa and Arneill in the Union Bank building.

Adam Story Chiropractic Corp
2310 E. Ponderosa Drive #20-B
Camarillo, CA 93010
(805) 389-0325

HOURS
Monday: 8:00am - 12:00pm & 2:00pm - 6:00pm
Tuesday: 8:00am - 9:00am & 5:00pm - 6:00pm
Wednesday: 8:00am - 12:00pm & 2:00pm - 6:00pm
Thursday: 8:00am - 9:00am & 5:00pm - 6:00pm
Friday: 8:00am - 12:00pm & 2:00pm - 6:00pm
Saturday: Closed
Sunday: Closed

APPOINTMENTS
If you would like to make an appointment, please contact our office by phone or email. If you would like to request an appointment online, please select the 'Appointment Request' option from the menu above. A member of our staff will follow up with you directly.
PAYMENT POLICIES
At Adam Story Chiropractic, payment is due at the time of your chiropractic appointment. We accept all major credit, debit and HSA cards. We accept insurance coverage on all insurance companies including PPO's and HMO's.
INSURANCE AND BILLING
We accept all traditional insurance plans. We will confirm your insurance at the first office visit.
ACCEPTED INSURANCE CARRIERS
Medicare
Blue Cross
Blue Shield
Blue Cross/Blue Shield
Aetna
Cigna
ASHN/ASH
All-Union Insurance
Workers' Compensation
Personal Injury
Med-Pay
Healthnet
ACN
All HMO's and PPO's